By Kerrie Briggs | Senior HR Advisor 
A human resources magazine, Human Resources Director (HRD), recently released an article on the most effective COVID-19 communications, reporting that interactive messages via messaging apps such as Slack, Teams or WhatsApp have a 72 – 88% effective response rate over e-mails. It was found that e-mails have only a 15% open rate and less than 2% response rate.
As the COVID-19 pandemic disrupts business, managing employee communications has never been more time-critical. Businesses need to be able to react fast with an agile form of communication that brings real-time prompt feedback. It's not just about knowing that a device has received a message, it's really about drilling down ensuring that the right person has consumed the content with the intent it was purposed.
With such a high importance placed on communication, it is critical that you have current and ample means of connecting, ensuring your IT hardware is working well, and software capabilities meet your employee numbers and the requirements of the team.
Does your business have a COVID-19 communications plan in place?
With all of this in mind, we wanted to share our recommendations on some key communications that businesses should adopt at this time. This will ensure you have the best messaging systems and help to promote a transparent sharing culture and connectivity amongst the team.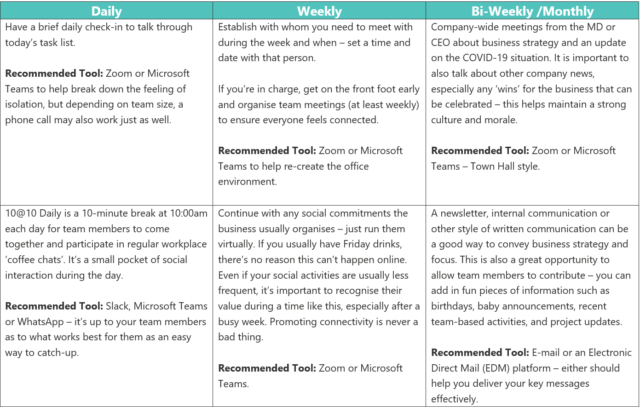 The above recommendations can help you to start establishing your communications plan but remember to be adaptable as the COVID-19 situation changes. It is impossible to predict how long this will last for or where we will be in the coming weeks.
There will always be a way for you to keep people informed, so finding methods to communicate with and to support your team will help the feeling of 'being in this together'.