A comprehensive guide
By Emily Conaghan
Alex is starting a new job at Paste Industries. After 10 years in her previous role, Alex has made the leap to join the Paste team as their marketing manager. She is feeling incredibly nervous, the last time she started a new job she was issued with a company Blackberry and a Windows' 2007 PC. Things have changed.

Alex has been in contact with Graham, Paste's HR Manager, throughout the recruitment process. Graham provided a contract for Alex four weeks ago, Alex returned a signed copy and while Graham acknowledged that he did receive Alex's contract, she hasn't heard from him since. On her first day, Alex arrives at Paste. There is no reception area, so Alex awkwardly stands at the door, hoping someone will show her inside.

When she finally gets inside, Alex asks for Graham and then proceeds to wait another 10 minutes as people scramble around trying to track him down. Eventually, Graham makes his way out and takes Alex to a desk that had clearly been occupied the Friday prior. It is obvious that Graham is restless and in a hurry, he clears the desk and invites Alex to take a seat.
"I've just got to run to a meeting" Graham says as he plonks down a thin document in front of Alex. "I'll leave you with our induction manual to have a read through and I'll let James (the Marketing Director) know you're here.

Just before lunch time, James appears, He also seems strapped for time, providing Alex with a vague overview of Paste's current marketing plan before getting up to go and giving the ambiguous instruction of "Now Alex, let's make it happen!".
At the end of her first day, Alex is feeling incredibly overwhelmed and feels like she is just a major inconvenience for the company. She doesn't even know where the toilet is. Alex is now seriously considering whether she has made the right decision to leave her job and join Paste Industries.
Have you ever stopped to put yourself in the shoes of your newest recruit? There's no doubt it's overwhelming starting a new job. It requires you to get your head around a million and one things: new faces and names, where the entries and exits are, how to use the coffee machine and where to find the toilet and that's before the work has even started.
Harvard Business Review cites that 20% of turnover occurs within the first 45 days , with an alarming statistic like this, it is crucial for all businesses to ensure that your onboarding procedure is in tip top shape.
If you're starting your onboarding procedure from scratch, it's a great idea to start creating a structured onboarding plan. According to the Society for Human Resource Management, new employees who went through a structured onboarding plan were 58% more likely to be with the organisation after three years  .
A structured plan will ensure that every employee that enters your organisation is not only receiving the same information, but is provided with the same knowledge and tools to enable them to put their best foot forward in a new role.
Your onboarding plan extends further than your employees first day- it should encompass: before, during and after commencement.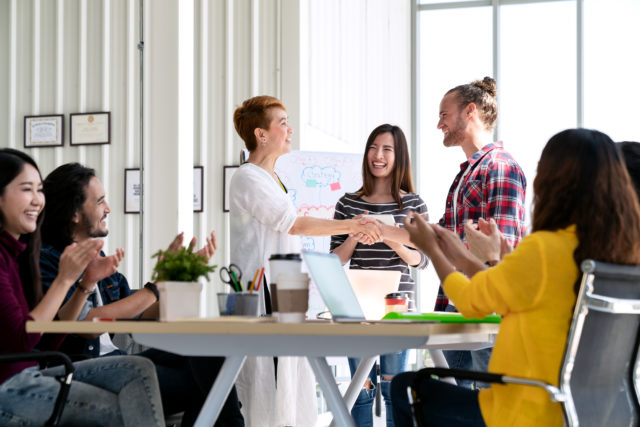 BEFORE:
Before your newest recruit even steps through the door, there's a lot of preparation to be done.
Internal set up:
How do you know that everything is ready to go for your new starter? We suggest using a standard checklist that identifies everything that needs to be done. By ticking this off as you go, you can be sure of consistency across the organisation. The following list is just a sample of things that you may want to consider when putting together your list:
Have I sent out a contract and has a signed copy been returned?
Has the employee received the necessary forms; new employee details, fair work information statement, tax file number declaration form and superannuation form?
Is their desk clean, tidy and stocked with all necessary stationery?
Is their IT equipment ready to go? Has this been checked to make sure it all works?
Have I assigned my new starter a buddy? Someone who they can ask questions of.
Has this buddy been briefed about the role and their responsibilities?
Check in:
During the week before your new employee starts, it's important to check in with them via phone or email. This is a crucial part of the process, it gives you the opportunity to provide any last minute information (for example- starting time, address and who to ask for) and it gives your employee the opportunity to ask any questions they may have.
Set the tone and spread the love:
During this exchange, make sure you set the tone for their first day! This is an easy way to ensure the employee feels excited and welcome before they even start. You may even want to spread the love by placing a goodie bag or hand-written note on their desk as a sweet surprise for their first day.
DURING:
The biggest gift you can give any new starter, is your time. So that everything runs smoothly on the day, ensure you (or whoever will be looking after your new starter) has blocked out some calendar time to ensure they settle in.
Ensure there is a point of reference for later:
Given the sheer amount of information you are going to provide, it's a great idea to provide a point of reference that your new starter can refer back to as they start to settle in. An induction manual should be comprehensive and cover; a company overview including key staff, policies and procedures, office and building facilities. It can also be a great place to introduce your company ethos and culture. Conducting an induction session is a great way to present this information and to provide an opportunity for questions and clarification.
Focus on the experience:
What would make you feel comfortable if it was your day? By focusing on the experience of your new starter you should be able to successfully convey that you're excited to have them here. Make sure they are introduced to everyone around the office, with a particular focus on the key decision makers and managers. If you can, organising a lunch with your new employee and some other members of their team is a great way to assist with integrating them into the company.
Don't forget the basics:
Make sure you cover off on the basics for a new starter- of course you will go over a Workplace Health & Safety briefing, but don't forget to show where the toilets and kitchen are, how to use the photocopier and any other IT equipment. These are just a few essentials you may need to include.
Let's not forget what we're here to do…:
Although the induction process can be time consuming, don't forget that you've hired this person to do a job. Make sure you set up some time with their team to provide an overview of the work they are currently doing, share goals and visions and to hand over work to your new employee.
AFTER:
Onboarding an employee doesn't end after the first day. To ensure a long, healthy and successful working relationship with your new recruit, it is important to continue to foster the relationship between new employee and new workplace.
Check in, check in and check in again:
If an issue was to arise, it's crucial to be able to address it as soon as possible. With this in mind, regular check ins with both your new employee and those working closely with them, can assist in determining any issues before they get out of hand. There are multiple forms in which you can conduct a check in- face to face meetings and surveys to name a few. We suggest the following sequence of check ins:
End of day one– this should be a casual catch up and once again, an opportunity for your new starter to ask any further questions
End of week one– once the dust has settled on the whirlwind of new faces and new procedures, this is a chance to get some feedback on your structured induction process.
6 week check in– By this point, the employee should really start to be settling in. Use the 6 week mark to touch base with the employee's manager to see how they are settling in and if there is anything that needs to be addressed at this early stage.
3 months– If you've decided to implement a 6 month probation period, at this stage, your new employee will be half way to this milestone. Use this check in to confirm with the manager whether they wish to keep their new employee after the probation period.
6 months– If the probation period has successfully been passed, use this as an opportunity to congratulate your employee. This is also a great time to discuss goal setting and expectations for the coming 6 months.
This process is large and involved, it's not something that can be replaced by software or done "on the fly". The time and effort put into these processes, will reap the rewards in the longevity and ultimately the performance of your new starter.
We have provided a sample New Starter Survey which will give you an indication of the types of questions that are helpful to ask of your new starters. This form is not a "one-size-fits-all" and will need to be adapted and changed to suit your organisation. It's also not a quick fix, for the best result with your onboarding process, a variety of techniques should be incorporated into your new starters first few weeks and months of work.
If you have any questions regarding our resource or if you require any assistance with your recruitment or onboarding processes, we welcome you to get in touch with Our HR Team on 1300 168 747.